GOVERNOR'S MESSAGE
Million $ Journey Dinner: Just two days away
By Pat and Skip Doyle
Just a week and a half left until our Rotary Foundation'Million Dollar Journey Dinner and 100th Anniversary Celebration, this Thursday, May 25 from 6 to 9 p.m. at Mechanics Hall in Worcester. The cost is $75 per person, and the event is open to both Rotarians and non-Rotarians, and regardless of whether you have either donated or pledged to the Rotary Foundation
We hope that many of you are planning to attend, and help us end our year on a high note. This is really the only major district event held during this Rotary year. Your attendance will be much appreciated by us.
To register and pay now, click here.
The quote, "Be careful what you wish for," comes to mind - along with the ending, "Because you might get it." We wished for one million new dollars in donations or pledges for The Rotary Foundation in 2016-2017, and we got it - and more - thanks to the work of our Major Donor Gift Committee under the extraordinary leadership of Chair Satya Mitra. So far, we've raised more than $1.3 million in donations and pledges. Our goal is to reach the $1.5-million mark by this May 25 - and the $2-million milestone by June 30, 2018.
Thank you, Satya, and all who made this happen!
This is a very important message for club presidents, presidents-elect and concerned members of all 51 Rotary clubs in District 7910.
All clubs under the leadership of their presidents have two tasks they should absolutely complete before this June 30.
The first one is a district-related task. It is time for you to finish up your Club Planning Worksheets. Throughout the year, we hoped that you would use these sheets to first plan your year and then check to make sure you were on track to having a successful year. Now, it is time to review the sheets with your club, make corrections, and add new information. You should have this completed by June 15, you have until June 30 if there is any additional information you would like to add. When completed, you should send the form to Past District Governor Klaus Hachfeld.
Why would you want to send the form along to Klaus? you might ask. The answer is this: It gives the district a snapshot of what our clubs have done throughout the year. But beyond that, the district has a tradition of awarding plaques, patches, certificates and a special district bell to clubs that have earned them during the year. In the past, these awards have been made at the District Conference. This year, since the deadline for completion of the worksheet was extended to the end of June, the awards will be made to the individual clubs at special club events. Pleasecontact your assistant governor for help in completing this task.
The second task stems from a Rotary International request. Every club is eligible to receive the Presidential Citation. In order to receive this award, a club must fill out the information requested on Club Central - which will be posted there during the first week of June - by June 30. Our goal is to have 100-percent club participation from our district. Please help us come closer to our goal. Assistant governors will be giving you a call to see how you are progressing, and to offer help in completing this task.
District 7910 Business Meeting Well-Attended
During our district's a
nnual Business Meeting on April 29 in Providence, a resolutionwas unanimously approved, allowing immediate past presidents of Rotary clubs to serve on the District Nominating Committee. To read the new procedure, click here.
Shown, left to right: District Parliamentarian Steve Sager and District Secretary Michelle Gasbarro look on as District Governors Skip and Pat Doyle explain the new nominating procedure, which takes effect this July 1.
Four important things to know:
1. The weekly submission deadline for the Newsletter is Friday. As usual, text content must be submitted in Word format, and image content, in either JPEG or PDF format. Continue to submit your content to Immediate Past District Governor/Newsletter Editor Jim Fusco at jim.fusco2@gmail.com.
2. Rotary Youth Leadership Awards: The RYLA Club Pack has been updated and posted on RYLA7910.org. When you download it, you will notice changes from last year. Please read the material carefully and direct your questions to Christine Pinney, chair of the RYLA Committee,who may be reached
at chair@ryla7910.org. The RYLA Committee is working to make RYLA 2017 the "best RYLA ever." Be sure to sign-up to volunteer. In this issue's "RYLA Right Now," read more.
3. Club Planning Worksheet: To download the Club Planning Worksheet, click here.This worksheet is made available to
clubs so they can gauge their progress in achieving the goals they set last July. This month is a good time to review the worksheet and see how far you have come and how much farther you need to go as a club. You may surprise yourselves and realize that you are well on the way to earning district recognition. We recommend the club president appoint the president-elect to be the "champion" of the Worksheet, and to use it as a guide for the club, and to report monthly to the club's membership and board on the club's progress.
4. As your district governors, we have resolved to:
Revisit as many clubs as possible by this June 30
Help our clubs achieve the goals they set last July
Do all we can to build membership in the district
Plan a grand event to celebrate our Million Dollar Journey
"Move the ball forward," in harmony with District Governor-Elect Karin Gaffney, District Governor-Nominee Steve Sager and District Governor-Nominee-Designate Pamela Anastasi
District Governors Pat and Skip Doyle (shown, right) may be reached
Click here to submit content for the Tuesday, May 30 issue. The submission deadline for this issue is Friday, May 26.
Click here for past issues.
---
WELCOME, NEW ROTARIANS
Alphabetical, by last name
No New Members
Remember to ask ... ask ... ask!
---
DISTRICT & CLUB ROUNDS
Dedham Hosts Veteran's Dinner
Dedham Rotary hosted dinner for Dedham Veterans on Thursday, May 18th. at the American Legion. In attendance along with several retired veterans were Agent Bill Aiken and State Rep Paul McMurtry.
Needham Volunteers at the Needham Community Farm (NCF)
Needham Rotary helped the Needham Community Farm in readying itself for the 2017 growing season. Ten members of the club and friends joined Theresa Strachila of (NCF) worked on multiple assignments to prepare the garden for this year's growing season. Tasks included leveling the land for more garden beds, repairing the existing wooden beds and structures, and helping to assemble a vegetable drying tent. This is the third year we have helped
Hudson Honors 4 Hudson High Seniors
Four students from Hudson High were presented with college scholarship awards.
The actual money is given after they complete a semester of school) at tonight's meeting.
They attended along with family members and their principal, Brian Reagan.
Jared Colbert -Hudson Rotary Club Scholarship Award
He will be attending Emerson College in the Fall.
Natalie Crowley-Poirier -E.J. Wetherbee Scholarship Award
She will be attending College of the Holy Cross in the Fall.
Zachary Chaulk -Roger Baker Scholarship Award
He will be attending Bentley College in the Fall.
Meghan Brennan -William Wood Scholarship Award
She will be attending UMass Amherst in the Fall.
Fitchburg Welcomes State Representative Stephen Hay
left-right: President Dan Cunningham & State Rep Stephan Hay
Uxbridge Cleans Up!
Member Jane Mitchell, with a helper, cleans up Uxbridge.
---
Framingham's 6th Annual Spring Craft Fair A Huge Success
---
Worcester Honors Satya Mitra As District Rotarian of Year
Big, hearty, service-way-above-self congrats to Worcester Rotarian Satya Mitra(shown, right) for being named Rotarian of the Year for District 7910. During the Worcester Rotary meeting on May 4, Worcester Past President Roger Frost (shown, left) presented the award to Satya, who is a Worcester past president, an assistant governor, and chair of the district's Million Dollar Journey campaign. Also shown are District Governors Pat and Skip Doyle, who announced the award during the Multi-District Conference on April 28 through 30 in Providence.
WATCH AWARD-PRESENTATION VIDEO
---
Auburn Partners With Horses And Heroes Foundation, Auburn Police Dedicate Tarentino Strong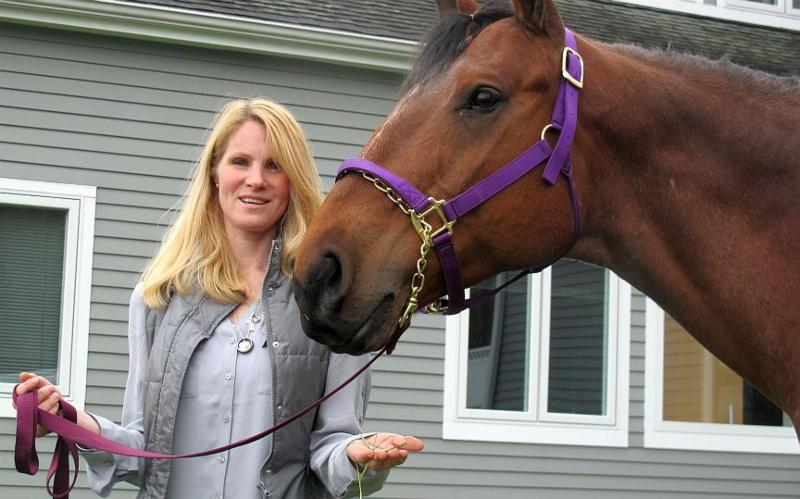 The Horses and Heroes Foundation Inc., which partnered on May 6 with the Auburn Rotary and the Auburn Police Department to dedicate police-patrol horse Tarentino Strong in honor of slain Auburn Police Officer Ronald Tarentino Jr., journeyed to the nation's capital last week during National Police Week. Foundation founder and President Skyllar Mullvaney, who is also a member of the Malden Rotary, joined the Tarentino family at last Saturdays' ceremony to dedicate a place on the National Law Enforcement Officers Memorial in Washington, DC, in honor of Officer Tarentino, who was shot and killed nearly a year ago, on May 23, 2016, during a routine traffic stop. Also last week, Tarentino Strong went on police-patrol duty in Washington, DC.
---
Uxbridge Hears From Lindsey Reichert On Team Up India
Lindsey Reichert (shown), whose mother, Leslie Reichert, is a past president of Uxbridge Rotary, recently talked to that club about her Team Up India start-up project. Lindsay and Kelsey Patton, who are seniors at Grove City College in Pennsylvania, are looking to use the weapon of education to change the future health of India.
Using kids' love of sports, Team Up India will be a sports program in India that will teach children proper eating habits and will fight malnutrition. This program will combine football (soccer, as it's called in the U.S.) training with classroom sessions to teach the children about healthy foods. This will help them make the connection between what they eat and how they perform in every aspect of life.
---
Shrewsbury, Worcester Join Forces To Help Students Become Authors
To learn more on:
---
Wachusett Area Holds Sock Hop
The District 7910 leadership team was well-represented at Wachusett Rotary's Cruisin' Sock Hop on April 21 at The Manor in West Boylston.
Left to right: District Governors Pat and Skip Doyle; District Governor-Nominee Steve Sager; Immediate Past District Governor Jim Fusco and his wife, Assistant Governor Karen Fusco; District Governor-Nominee Designate Pam Anastasi; District Governor-Elect Karin Gaffney and her husband, Dana Gray; District Foundation Chair and Table Host Sanjay Deshpanade, a past president of Wachusett Area Rotary.
During the Cruisin' Sock Hop, Wachusett Area President Gary Hough (below) danced up a storm!
To learn more on Wachusett Area Rotary, click here
---
Chelmsford Honors April's Students Of The Month
Shown, left to right, are the Chelmsford High School students who were honored: Daniel Demitrov, Tyler Fleming, Anthony Del Trecco, Suzanne Misherfi, Meg Dugas, and Kristen Hohenstein.
---
Fitchburg Supports Citizenship Preparation
Fitchburg Rotary has donated $1,000 to help support free citizenship-preparation classes that are offered in Fitchburg by Literacy Volunteers of the Montachusett Area.
To learn more on Fitchburg Rotary, click here
---
Westborough Holds Repair Cafe
---
Worcester Funds Opioid-Crisis Fight
Worcester Rotary has donated $41,000 to the City of Worcester in support of the city's efforts to fightopioid addiction in the Worcester area.
Shown, left to right: City Manager Ed Augustus, Mayor Joseph Petty, club President Barbara Guthrie, Immediate Past President Robert Mangan, Past President Satya Mitra, and Rotarians Ron Fraser, Bill Moore and Fred Nathan
---
Franklin Donates $500 To Franklin Food Pantry
Left to right: President Terry Katsaros; and Erin Lynch, director of Franklin Food Pantry
---
Nashoba Valley To Host Bolton Repair Cafe On May 20
What do you do with a broken toaster or lamp? Or with a shirt or blouse with a seam that is ripped out? Toss it? No way! Bring them to the Bolton Repair Café. The Nashoba Valley Rotary, with help from Bolton Local, is hosting the next Bolton Repair Café on Saturday, May 20, from9:00 a.m. to 1:00 p.m. The event will be held in the cafeteria of the Florence Sawyer School, 100 Mechanic Street in Bolton.The school is located behind the Emerson School, which is on the same driveway/street.

For more information, contact Ray Pfau at 978-779-5545 orray.pfau@alum.mit.edu, or visit www.nashobarotary.org.
---
RI PE Ian Riseley Addresses NorthEast PETS '17
Shown at the 2017 Northeast Presidents Elect Seminar last Thursday in Framingham, are the eight governors-elect in the Northeast posing with Rotary International President-Elect Ian Riseley (second from right). Among the DGEs is our own Karin Gaffney (third from right).
To view event photos by District 7910 Photographer Cheryl Rosen, a member of the Rotary Club of Hudson,
click here.
Spontaneous donations at NEPETS totaled $5,500 for a Right to Read literacy project run by Shirley-Pat Chamberlain (shown, left) of the Rotary Club of Williams Lake, British Columbia. All eight districts decided to match the contribution, bringing the total up to$11,000. That is enough to fund half the$22,000 cost to get the library up and running.
---
In Support of Polish-Ukrainian Rotary Project
By Roy Balfour
The Polish-Ukrainian Rotary project deals with rehabilitation in Poland of a group of 25 Ukrainian children who are 10 to 12 years old, plus three accompanying adults. The children belong to families who lost their parents in the war unleashed in the East of Ukraine. This project has been successfully going on for the last three Rotary years successfully, and its main financial burden was carried by Polish Rotary clubs.
---
Multi-Club Power Play
Needham Teams Up with Framingham, Newton, Waltham and Watertown on India Solar-Power Project
Needham, Framingham, Newton, Waltham and Watertown Rotary have partnered to fund a $6,000 solar-power project (shown, left) for Film Nagar High School in Hyerabad, India. The host club there is the Jubilee Hills Rotary, in District 3150.
Needham paid $3,000 of the $6,000 - $1,500 of which should come back as District Grant match. Watertown, Waltham, Newton and Framingham paid $500 each.
---
Great Club Fundraising Tool
Westborough uses PayPal to raise nearly $2,000 for Polio Plus
We are all well aware that The Rotary Foundation is celebrating its 100th anniversary in 2017. Steve Kirk, president of Concord Rotary, has produced a five-minute video that outlines our own district's fundraising goals for the current Rotary year, which ends this June 30.
To learn more about The Rotary Foundation, click here.
---
Watch Video: Governor Baker Addresses District 7910 Rotarians
The Rotary Club of Billerica has provided a video of Governor Charlie Baker's address to District 7910 Rotarians last September 27 at the DoubleTree Hotel in Bedford.
To watch the two-hour-47-minute video, click here.
The Rotary Clubs of Bedford, Billerica, Lowell, Newtonand Shrewsbury sponsored the event, which was a unique opportunity for Rotarians and friends to discuss partnering on humanitarian projects affecting our local communities. To view event photos, click here.
See You at RI Convention This June In Atlanta
Register now!
Planning to attend? Contact District RI Convention Chair Steve Glines.
To register for the 2017 RI Convention in Atlanta, click here.
---
Pat and Skip Doyle Installed as '16-'17 DGs
---
MAJOR DISTRICT & CLUB HAPPENINGS: SPRING & SUMMER 2017
Tonight -

Tuesday, May 23: Districts 7910 and 7930 - 'Pre-Convention Meet & Greet'
---
Thursday, May 25: District 7910 - 'Million Dollar Journey Dinner'
To download the event flyer in PDF format, click here
To download the event flyer in JPEG format, click here
To watch a 3-minute video promoting our Million Dollar Journey Dinner, click here.
Wednesday, May 31: Rotary Means Business at Grill on the Hill Worcester
---
Saturday, July 15: District 7910 - 'District Governor Installation Ceremony'
SUBMIT MAJOR CLUB HAPPENINGS
Send flyers of your club's major events and activities, in either JPEG or PDF format, to Immediate Past District