GOVERNOR'S MESSAGE
Celebrating Bobbie Knable And Tour De Natick
By Pat and Skip Doyle
We will never stop being amazed at the events that take place in our district. Last Thursday, we attended Brookline
Rotary's 76th Annual Distinguished Public Service Awards Luncheon. The honoree was Bobbie Knable (shown on right in photo, right), a long-time Brookline resident who spent her life working toward equal rights. Her story was an inspiration, and her message could easily be a recruitment message for our Rotary clubs as she spoke of the need for age and racial equality in government.
An excellent article on Natick Rotary's annual Tour de Natick
appeared above the fold on the front page of this Sunday's MetroWest Daily News. This event (shown, left), held on Father's Day, raises about $20,000 for local charities. (Photo: Dan Holmes, MetroWest Daily News)
This is our next-to-last Governor's Message, and we have a request for all of you. We have no idea how many members have been reached by our messages. Oh yes, we know the analytics, but who are you? Some of you go out of your, way when we meet, to let us know that you have read a particular issue. But we are curious: Who are you? Please, if possible, take the time this week to contact us, send us an e-mail at skipdoyle2@verizon.net, or call us at 508-393-9031, or, even better, let us know by stopping by next week's RYLA and telling us you followed our messages.
Looking forward to hearing from you.
Speaking of RYLA, visit our RYLA website, find the location to sign up, and plan to spend some time with us this upcoming weekend. If the only time you have free is Sunday afternoon, then come to the closing ceremony, congratulate the students attending from your club, engage with their parents, and enjoy Rotary youth at work.
We hope to welcome many of you on June 23-25. We want to say thank you in person for all the work you have done this Rotary year.
Last but not least, please consider donating as a member or as a club to the Food Packing event to be held on the Friday afternoon of the RYLA weekend. There is a place on the first page of the RYLA website, where you can donate to the Rise Against Hunger Program for the RYLA weekend. The more money raised, the more food that can be packaged. Many of our RYLA graduates cite the Food Packing as the single most important thing they did during the weekend. Let's help them raise a record amount of money and pack a record amount of meals.
Volunteer and donate today. Don't wait! You won't be sorry.
Club Planning Guide Deadline Extended
Please complete your Club Planning Worksheet for this 2016-2017 Rotary year, which ends June 30, ASAP and send it to Past District Governor Klaus Hachfeld at laserklaus@gmail.com. Clubs will receive the Best Club Awards at the installation of Karin Gaffney as '17-'18 district governor on July 15. Do not second-guess your club. Send the updated form today for review by the District Awards Committee. Your club may well be in the running for an award. Sadly, if your form is received after June 30, it would not be reviewed. In case you misplaced your Club Planning Worksheet, click here to download it in PDF format.
Hurry, hurry, hurry. No time to waste.
Thank You for Your Support of Our Million Dollar Dinner
It is our pleasure to share with you the highlights of our district's Million Dollar Journey Dinner on May 25 at historic Mechanics Hall in Worcester. This was a joyous celebration of the Centennial Birthday of The Rotary Foundation, and of our district having met - and surpassed - the Million Dollar Journey goal of raising $1 million in donations and pledges to the Foundation. We topped $1.3 million, and the new goal is to reach $2 million by June 30, 2018.
We would like to thank each and every one of you who attended the special evening. It was an unforgettable event, the likes of which many of us have never seen in our district.
What started out as a celebration to honor the 100th birthday of the Foundation and those who had so generously pledged or donated to the Foundation became a celebration of all that the Foundation means to our district. It is almost impossible to single out one part of the evening as a highlight as there were so many.
An inspirational speech by Rotary International Director Dean Rohrs, who is also director of Rotary Zone 24/32
The international flair of Indian dancers from the Natyamani School of Dance (shown, above)
The wonderful jazz ensemble from Joy of Music
The historical surroundings of Mechanics Hall
The wonderful food prepared by Struck Catering
The beautiful birthday cake (shown, below) provided by Concord Teacakes to celebrate not only the birthday of the Foundation but also the birthday of Past District Governor Carol Toomey
The district's amazing Million Dollar Journey Dinner Committee that pulled everything together, led by Assistant Governor Satya Mitra and Carol Toomey
The evening culminated in the surprise announcement of the first named District 7910 Foundation Award: the Ed Hall Outstanding Foundation Achievement Award. It is named after longtime Worcester Rotarian and past district governor Edward C. Hall (shown, second from left, next to District Governor Pat Doyle).
Our only disappointment is that so many Rotarians from District 7910 were not able to attend. You missed a wonderful opportunity to join in fellowship with your fellow Rotarians.
Our wish is that the next time you are presented with such an opportunity, you will find a way to join us.
To view photos of the Million Dollar Journey Dinner, taken by Worcester Rotarian Rich Prager, click here.
To watch video of Dean Rohrs' keynote address, taken by Auburn Rotarian Steve Jones-D'Agostino, click here.
To read the Telegram & Gazette Q&A with Dean Rohrs, click here.
To listen to a radio interview with Dean Rohrs by Steve Jones-D'Agostino,click here.

Reminder for Club Presidents, Presidents-Elect and Concerned Members
This is a very important message for club presidents, presidents-elect and concerned members of all 51 Rotary clubs in District 7910. All clubs under the leadership of their presidents have two tasks they should absolutely complete before this June 30.
The first one is a district-related task. It is time for you to finish up your Club Planning Worksheets. Throughout the year, we hoped that you would use these sheets to first plan your year and then check to make sure you were on track to having a successful year. Now, it is time to review the sheets with your club, make corrections, and add new information. You should have this completed by June 15, you have until June 30 if there is any additional information you would like to add. When completed, you should send the form to Past District Governor Klaus Hachfeld.
Why would you want to send the form along to Klaus? you might ask. The answer is this: It gives the district a snapshot of what our clubs have done throughout the year. But beyond that, the district has a tradition of awarding plaques, patches, certificates and a special district bell to clubs that have earned them during the year. In the past, these awards have been made at the District Conference. This year, since the deadline for completion of the worksheet was extended to the end of June, the awards will be made to the individual clubs at special club events. Please contact your assistant governor for help in completing this task.
The second task stems from a Rotary International request. Every club is eligible to receive the Presidential Citation. In order to receive this award, a club must fill out the information requested on Club Central - which will be posted there during the first week of June - by June 30. Our goal is to have 100-percent club participation from our district. Please help us come closer to our goal. Assistant governors will be giving you a call to see how you are progressing, and to offer help in completing this task.
Four important things to know:
1. The weekly submission deadline for the Newsletter is Friday. As usual, text content must be submitted in Word format, and image content, in either JPEG or PDF format. Continue to submit your content to Immediate Past District Governor/Newsletter Editor Jim Fusco at jim.fusco2@gmail.com.
2. Rotary Youth Leadership Awards: The RYLA Club Pack has been updated and posted on RYLA7910.org. When you download it, you will notice changes from last year. Please read the material carefully and direct your questions to Christine Pinney, chair of the RYLA Committee,who may be reached
at chair@ryla7910.org. The RYLA Committee is working to make RYLA 2017 the "best RYLA ever." Be sure to sign-up to volunteer. In this issue's "RYLA Right Now," read more.
3. Club Planning Worksheet: To download the Club Planning Worksheet, click here.This worksheet is made available to
clubs so they can gauge their progress in achieving the goals they set last July. This month is a good time to review the worksheet and see how far you have come and how much farther you need to go as a club. You may surprise yourselves and realize that you are well on the way to earning district recognition. We recommend the club president appoint the president-elect to be the "champion" of the Worksheet, and to use it as a guide for the club, and to report monthly to the club's membership and board on the club's progress.
4. As your district governors, we have resolved to:
Revisit as many clubs as possible by this June 30
Help our clubs achieve the goals they set last July
Do all we can to build membership in the district
Plan a grand event to celebrate our Million Dollar Journey
"Move the ball forward," in harmony with District Governor-Elect Karin Gaffney, District Governor-Nominee Steve Sager and District Governor-Nominee-Designate Pamela Anastasi
Click here
to submit content for the Tuesday, June 27 issue. The submission deadline for this issue is Friday, June 23.
Click here for past issues.
---
WELCOME, NEW ROTARIANS
Alphabetical, by last name
Jeff Ardis, Fitchburg
Michael Baldino, Neponset Valley
Donny Bautz, Waltham
Charles DelloIacono, Neponset Valley
Kenneth Jaffe, Natick
Kristina LeDuc, Southbridge
Linda Maxwell, Concord
Jon Zlotnik, Gardner
Remember to ask ... ask ... ask!
---
ESSEX BLOG
Thai And Stop Me: Countless shared memories and laughs
By Cassidy in Thailand
A lot has happened in the past few weeks here in Phitsanulok! As things are winding down and the main part of our Exchange here is finished, everyone is preparing to (you guessed it) go home! This is bittersweet in a lot of ways. However, at the start of this month, I told myself that things wouldn't be the same as they were for the beginning and middle of my exchange. It's different now, because we no longer feel as though we have all the time in the world. In fact, we've already started saying goodbyes.
The first goodbye I had to say was to my very good friend, Eduardo, who is from Brazil. He is one of the kindest and most genuine people I've ever met. Just a little while ago, we had a goodbye party for all of the Exchange students, to say goodbye to those who were leaving soon. This was the last time we Exchange students were all together. It was an incredible night, and I was lucky to get to also see my friends, Tuter and Team (future Exchange students for next year),but it was also sad knowing that this group of people would be broken up. I spent the next day with Eduardo and some friends, making quality memories. The next morning, I went over to the airport in Phitsanulok, and I had to say goodbye to one of my friends, knowing I may never see him again.
Saying goodbye isn't an easy thing to do. And, being honest, I'm pretty terrible at it. I hate goodbyes because it feels permanent; the last memory of a person being that moment. So, after saying goodbye, I didn't feel great. I wished we had more time, went out more, did more of everything. But, the fact is, you will never feel like you've had enough of anything when it's time to say goodbye to it. Exchange has truly taught me that.
Besides, when I remember my friends and family, I'm not going to remember the moment I said goodbye to them. I will remember the countless memories and laughs we shared together.
Cassidy is an Eastern States Exchange Student sponsored by the Rotary Club of Uxbridge. To visit their website, click here.
To learn more on ESSEX, click here.
'ESSEX BLOG' PAGE (in case you want to share a link to this article)
---
DISTRICT & CLUB ROUNDS
Dedham Hosts Ice Cream Social For Seniors
Dedham Rotary with the help of JP Licks hosted its annual Ice Cream Social for the Seniors at O'Neil Drive Senior Housing Complex.
Shown, left to right: Rotarians Carrie Crossland, Darrell Smith and Marie-Louise Kehoe pose with Housing Director Carol O'Neil.
---
Framingham Presents $3,182 To Special Olympics Collected During Boston Marathon
---
Montachusett Area Proud of Interact Club Officers Inspired By RYLA
After being inspired by RYLA 2016, Kayla wanted to start up Interact club at Montachusett Regional Vocational Technical High School. The club was chartered last year, and Kayla has continued to do great things.
Kayla (shown, left), now the club's co-president, won Gold in the state Nurse Assisting competition, and Ayla (shown, right), the club's secretary, won Bronze in the Basic Health Care competition. Kayla is moving on to the national competition in Louisville, Kentucky. Our Interactors continue to do amazing things.
---
Sturbridge Honors Tantasqua Regional High School Seniors
Sturbridge Rotary recently presented five students from Tantasqua Regional High School with college scholarship awards. The money will be given after successful completion of their first semester of college. In addition, an award was presented in memory of the husband of a Sturbridge Rotarian.
Emma Stanley (shown, far left) from Brimfield will attend UMass-Amherst. Emma received the
Wendell Wright Memorial Educational Award.
The following received Sturbridge Rotary Scholarship Awards:
Maxwell Cooney from Sturbridge will attend UMass Boston.

Bennet Farrell from Sturbridge will attend UMass Amherst. 0dam Phillips from Brookfield will attend Anna Maria College. Noah Scott from Brimfield plans to attend Georgetown University, pending acceptance. Camier Hall from Fiskdale will attend Union College. Unfortunately, Camier was unable to attend the Club's Scholarship Recognition Night.
---
District, Zone Leaders Celebrate 'Beyond Borders' At RI Convention
District 7910 is part of Rotary International's Zone 32, which includes 20 districts with 1,000 Rotary clubs totaling 32,242 members. At every Rl Convention, Zone 32 pairs up with Zone 24 to host a "Beyond Borders" Dinner. Why is it called "Beyond Borders?" you may ask. The answer is that these two zones span three countries (U.S., Canada and Russia) on two continents (North America and Asia).
This year, the "Beyond Borders" Dinner was held at the George Aquarium, a public facility in Atlanta. It is the largest aquarium in the Western Hemisphere, housing thousands of animals and representing several thousand species, all of all kinds.
The dining room overlooked the aquarium, and attendees were treated to a display of fish swimming by. Total attendance was 650 and included 2017-2018 RI President Ian Risely and '16-'18 RI Director Dean Rohrs.
This year, 11 members from District 7910 attended. They are, left to right: IPDGJim Fusco, Chris and Laura Spear, DGE Karin Gaffney, Karen Fusco, Lilia Weisfeldt, DGND Pam Anastasi, PDG Carol Toomey, Margarete and Tom Polito, and DGN Steve Sager.
Rotarian Wine Appreciation Fellowship Outing Set For July 21 In Worcester
Both Rotarians and non-Rotarians will enjoy a "Rotary Wine & Dine Night" on Friday, July 21 from 5:30 to 9:00 p.m. at Hanover Park, located on Fitton Field at the College of the Holy Cross in Worcester. The cost is $50 per person, and includes the 'Bullpen Buffet,' which consists of dinner, three glasses of wine, one game ticket, and one replica Bravehearts hat. Free parking will be available. The event is sponsored by the Rotarian Wine Appreciation Fellowship.
The 'Bullpen Buffet" consists of the following: grilled Angus burgers; grilled jumbo Fitton Field franks; grilled chicken sandwiches; grilled veggie burgers; pasta salad; potato salad; chips and pickles; make-your-own sundaes; soda; and bottled water.
For more information, contact Carl Gomes, of the Rotary Club of Nashoba Valley, at 508-450-3374 or carlcgomes56@icloud.com, Steve Jones-D'Agostino, of the Rotary Club of Auburn Rotary, at 508-930-8675 orsrdagostino@icloud.com.
---
Nashoba Valley's Bountiful Spring Harvest
Holds Financial Reality Fair
The 10th-graders at Nashoba Regional High School got a taste of financial reality on April 28. Many thanks to Nashoba Valley Rotary's volunteers and to its sponsor, Clinton Savings Bank, in making this fifth annual event a reality!
Donates $500 To Stow Police Academy
Shown, left, is club President Chris Spear during the check presentation to theStow Police Academy for its Youth Police Academy.
Holds Food And Wi
ne-Tasting Fundraiser
Nashoba Valley Rotary joined Acton-Boxborough Rotary on April 27 for this tasty fundraiser! Shown, left to right, are Nashoba Valley Rotarian Rich Garcia, Littleton Rotarian Gino Frattalone, and Nashoba Valley President-Elect Mary Garcia, who is married to Rich.
Gets National Coverage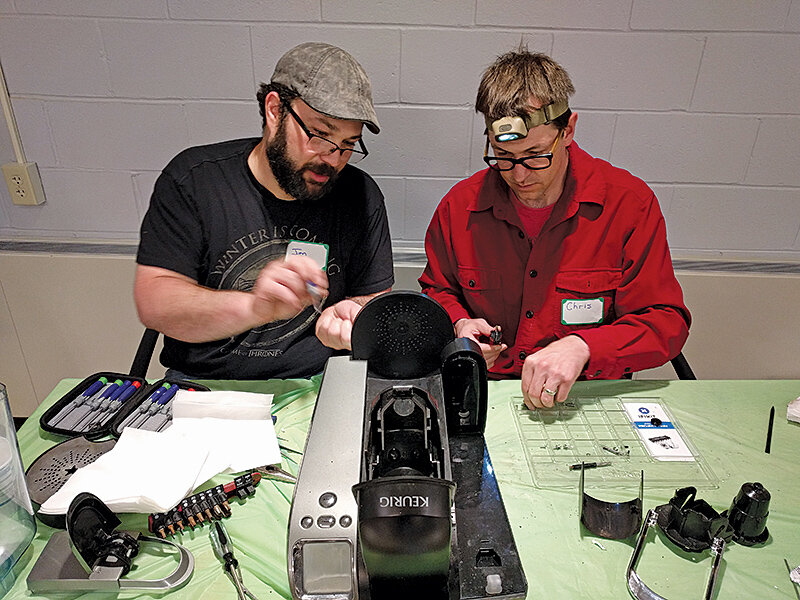 Of Repair Cafe
The club's Repair Cafe, cosponsored with the Stow Council on Aging, has been featured in the Christian Science Monitor.
---
Wellesley Interact On Display At RI Convention
Shown at the Rotary International Convention in Atlanta, is one of three booths where Wellesley Interact's project is being promoted.
---
Westborough Celebrates Spring With Annual Festival
To learn more about Westborough Rotary, click here.
---
District Membership, PR Committees Hold Final Meeting
Thank you to District Public Relations Chair Laura Spear (second from left),Membership Chair Satya Mitra (center) and Membership Vice Chair Tom Sturiale (second from right) for their service. These are three-year positions, and their time is up. Thank you! Thank you! Thank you!

They are shown posing with District Governors Pat Doyle (far left) and Skip Doyle (far right).
---
Worcester Honors Satya Mitra As District Rotarian of Year
Big, hearty, service-way-above-self congrats to Worcester Rotarian Satya Mitra(shown, right) for being named Rotarian of the Year for District 7910. During the Worcester Rotary meeting on May 4, Worcester Past President Roger Frost (shown, left) presented the award to Satya, who is a Worcester past president, an assistant governor, and chair of the district's Million Dollar Journey campaign. Also shown are District Governors Pat and Skip Doyle, who announced the award during the Multi-District Conference on April 28 through 30 in Providence.
WATCH AWARD-PRESENTATION VIDEO
---
Auburn, Horses And Heroes Foundation, Auburn Police Dedicate Tarentino Strong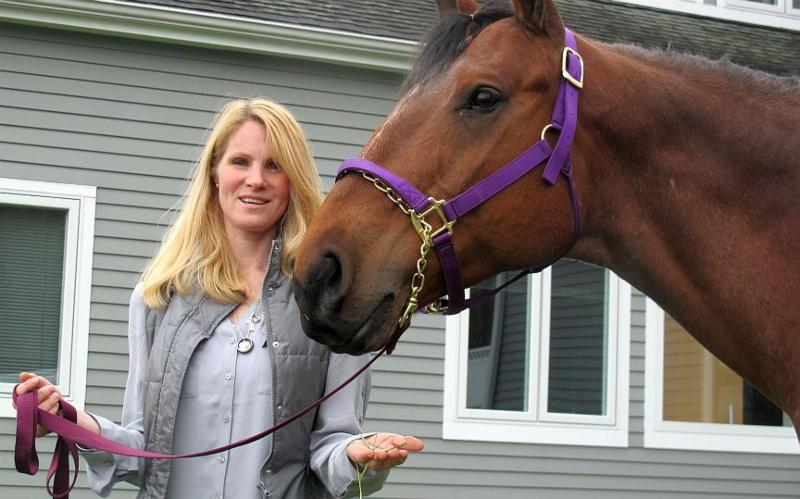 The Horses and Heroes Foundation Inc., which partnered on May 6 with the Auburn Rotary and the Auburn Police Department to dedicate police-patrol horse Tarentino Strong in honor of slain Auburn Police Officer Ronald Tarentino Jr., journeyed to the nation's capital last week during National Police Week. Foundation founder and President Skyllar Mullvaney, who is also a member of the Malden Rotary, joined the Tarentino family at last Saturdays' ceremony to dedicate a place on the National Law Enforcement Officers Memorial in Washington, DC, in honor of Officer Tarentino, who was shot and killed nearly a year ago, on May 23, 2016, during a routine traffic stop. Also last week, Tarentino Strong went on police-patrol duty in Washington, DC.
---
Uxbridge Hears From Lindsey Reichert On Team Up India
Lindsey Reichert (shown), whose mother, Leslie Reichert, is a past president of Uxbridge Rotary, recently talked to that club about her Team Up India start-up project. Lindsay and Kelsey Patton, who are seniors at Grove City College in Pennsylvania, are looking to use the weapon of education to change the future health of India.
Using kids' love of sports, Team Up India will be a sports program in India that will teach children proper eating habits and will fight malnutrition. This program will combine football (soccer, as it's called in the U.S.) training with classroom sessions to teach the children about healthy foods. This will help them make the connection between what they eat and how they perform in every aspect of life.
---
Shrewsbury, Worcester Join Forces To Help Students Become Authors
To learn more on:
---
Wachusett Area Holds Sock Hop
The District 7910 leadership team was well-represented at Wachusett Rotary's Cruisin' Sock Hop on April 21 at The Manor in West Boylston.
Left to right: District Governors Pat and Skip Doyle; District Governor-Nominee Steve Sager; Immediate Past District Governor Jim Fusco and his wife, Assistant Governor Karen Fusco; District Governor-Nominee Designate Pam Anastasi; District Governor-Elect Karin Gaffney and her husband, Dana Gray; District Foundation Chair and Table Host Sanjay Deshpanade, a past president of Wachusett Area Rotary.
During the Crui
sin' Sock Hop, Wachusett Area President Gary Hough (below) danced up a storm!
To learn more on Wachusett Area Rotary, click here
---
In Support of Polish-Ukrainian Rotary Project
By Roy Balfour
The Polish-Ukrainian Rotary project deals with rehabilitation in Poland of a group of 25 Ukrainian children who are 10 to 12 years old, plus three accompanying adults. The children belong to families who lost their parents in the war unleashed in the East of Ukraine. This project has been successfully going on for the last three Rotary years successfully, and its main financial burden was carried by Polish Rotary clubs.
---
Multi-Club Power Play
Needham Teams Up with Framingham, Newton, Waltham and Watertown on India Solar-Power Project
Needham, Framingham, Newton, Waltham and Watertown Rotary have partnered to fund a $6,000 solar-power project (shown, left) for Film Nagar High School in Hyerabad, India. The host club there is the Jubilee Hills Rotary, in District 3150.
Needham paid $3,000 of the $6,000 - $1,500 of which should come back as District Grant match. Watertown, Waltham, Newton and Framingham paid $500 each.
---
Great Club Fundraising Tool
Westborough uses PayPal to raise nearly $2,000 for Polio Plus
We are all well aware that The Rotary Foundation is celebrating its 100th anniversary in 2017. Steve Kirk, president of Concord Rotary, has produced a five-minute video that outlines our own district's fundraising goals for the current Rotary year, which ends this June 30.
To learn more about The Rotary Foundation, click here.
---
Watch Video: Governor Baker Addresses District 7910 Rotarians
The Rotary Club of Billerica has provided a video of Governor Charlie Baker's address to District 7910 Rotarians last September 27 at the DoubleTree Hotel in Bedford.
To watch the two-hour-47-minute video, click here.
The Rotary Clubs of Bedford, Billerica, Lowell, Newtonand Shrewsbury sponsored the event, which was a unique opportunity for Rotarians and friends to discuss partnering on humanitarian projects affecting our local communities. To view event photos, click here.
Pat and Skip Doyle Installed as '16-'17 DGs
Saturday, July 15: District 7910 - 'District Governor Installation Ceremony'
---
Friday, July 21: Rotarian Wine Appreciation Fellowship - 'Rotary Wine & Dine at the Ballpark!"
---
Monday July 24: Sturbridge - 'Charity Golf Classic'
---
SUBMIT MAJOR CLUB HAPPENINGS
Send flyers of your club's major events and activities, in either JPEG or PDF format, to Immediate Past District